The Dogs of Our Lives
| | | |
| --- | --- | --- |
| | | Pictures and Bios |
| Our Dogs | Our Dogs' Friends | |
Note: For the images included in this page, click on the thumbnails to bring up the full-size image.
Dog News

Entry for 5/9/03

Cammie turned 4 on March 1st.
Cammie chewed Jeff's good pair of Cole-Haans.

How to distinguish Molly from Cammie

Molly and Cammie are both tri-color Shelties and they each weigh around 20 pounds. Quite often, Molly gets yelled at for something Cammie is doing (and vise-versa). Here's a few tips for telling them apart:

For now, Molly's coat is fuller. Cammie is still maturing, and as her coat comes in this differentiator will disappear.
Cammie's right eye is partially blue.
Molly is porkier.
Cammie's forehead has a white diamond, whereas the white on Molly's forehead isn't as wide.
The white on Molly's forehead connects to the white on the back of her neck by continuing between her ears. Cammie's forehead white doesn't connect.
Cammie is longer from schnoz to butt.
Cammie has freckles, Molly does not.
Our Dogs
Molly
Molly as an adult -
June, 1999
Molly at 6 weeks -
2.5 pounds - August,
1996
Molly lives for frisbee, and she's
awesome at it - 1998
Young Molly snoozing on Jeff's
chest - August, 1996
Molly taking a break from
playing - February, 2000
Molly is a Shetland Sheepdog and she was born on June 30th, 1996. We got her when she was six weeks old, and she and Maggie were instant buddies. She's a dominant dog, often hoarding all the toys for herself. She lives to play, and her way of greeting us when we get home is to drop toys at our feet. "Moll" loves to play frisbee. The only problem is that she doesn't quit when she's exhausted.

She placed 1st in her obedience class during the summer of 1999, receiving a blue ribbon. If you at all interested in obedience tests, ask us what happened during the down-stay portion.

When Maggie died in the summer of 1999, Molly seemed lost for a while...until we found Cammie.
Cammie
Cammie as a
teenager -
6 months -
September, 1999
Cammie has one
partially blue eye -
November, 1999
Cammie eagerly responding
after master photographer
Jeff yells, "Cammie, Come!" -
February, 2000
Cammie and JoAnn -
July, 2001
Cammie loves to lay in the sun -
July, 2001
When we were ready for another companion for Molly, we contacted Dottie's breeder. She didn't have any litters on the way; however, she put us in touch with her friend who had a 6 month old Shetland Sheepdog that was bred for showing but wasn't turning out to be the ideal size. We took one look at Cammie and knew she was perfect.

CamCam fit right in immediately. She and Molly were instant best friends. She loves to bug me (Jeff) when I'm working from home. About every half-hour, she'll ask for a little attention.

Cammie also shares some ancestors with Maggie May.
Maggie
Mags after
placing 2nd in
obedience
training - 1995
Maggie at 8 weeks - 4.5 pounds -
1994
Maggie was the original
frisbee queen - the
picture doesn't do
her justice, but
she went high
for this catch - 1996
Maggie meets Molly for the first
time... "What the hell is this??"
- 1996
So one day Maggie decides,
"I'm gonna jump up onto
the window sill!" -
December, 1994
Jeff's
favorite
photo of
Maggie
Maggie May was our honeymoon dog...we got her the day after our honeymoon ended when she was 8 weeks old. She was born on July 29th, 1994. She was a sable and white Shetland Sheepdog.

She was our only dog for two years, until Molly showed up. Mags did us proud by placing 2nd in her obedience class (out of 20 dogs). She was very smart: She knew all of her toys by name, she knew who "Dad" and "Mom" were, she knew sit, stay, down, shake, "other" (shake with the other paw), roll-over, and say "yes".

Magpie died suddenly while we were at her favorite place: The lake. She was only five years old.
Megan
Megan
basking in
the sun -
1995
Megan curling up under her blanky on
a cold morning at the lake - October, 1994
Young Maggie trying to be like
Megan at the cabin - October, 1994
Cammie, Molly, and Megan
impatiently pose for a photo -
February, 2000
Megan is partly JoAnn's dog. Her family got Megan, a miniature Poodle, when JoAnn was still in junior high school.

Megan is a multi-faceted dog. She's a lover and a cuddler, and at the same time she's a lethal hunter (she's stalked and killed several squirrels).
Heidi and Her Puppies
Heidi feeding one
of her litters in
1972
Sugar and Pepper want to
play with little Jeffy - 1972
Heidi, a Miniature Schnauzer, was Jeff's protector from when he was born until he was in sixth grade. She'd let baby Jeff pull her tongue out of her mouth, but she'd snap at any strangers who got near "her" baby.

Heidi had a few litters of puppies. Two of her most memorable puppies were Sugar and Pepper.

Heidi lived through two car accidents to the ripe old age of 15.
Phoebe

Phoebe (left) and JoAnn -
August, 1972

Phoebe was JoAnn's first dog. She was a miniature Poodle and was the same age as JoAnn growing up. This picture was taken across the street from JoAnn's house where Diane and Dana Sandgren would babysit both JoAnn and Phoebe. Once Phoebe ventured across the street to see Diane and got hit by a car. She always limped after that.
Our Dogs' Friends
Sandy
Sandy posing for
the camera
Sandy meets Molly for
the first time
Sandy (left) and Maggie looking
out our front door
Sandy poses for
a photo
Sandy, a sable and white Shetland Sheepdog, is the dog of our friends the Gergens. She's actually related to Maggie (2nd cousins), which means she's a distant relative of Cammie's. She was born in the summer of 1995. One of the sweetest dogs there is.
Dottie
Dottie helping
Jeff respond to
email
Dottie relaxing on our
ottoman
Dottie's litter: Randy, Dottie, Jake, Mitch
and Cris. Dottie is 2nd from the left in front
Cammie, Dottie, and Molly
wish they were having fun
with us on the deck
Dottie is the dog of our friends Don and Heather. She's a bi-black Shetland Sheepdog, and relatively small (8 pounds at 9 months). She'll fall asleep on Jeff's lap while he's working. Her breeder named her "Dottie" because she's got a white spot on her rear end.
Abby
Abby posing with
her trademark
bandana
Trying to hide
from the
camera
Maggie and Abby forced to pose
Abby was Don and Heather's first dog. Like Dottie (and Maggie, Molly, Cammie, and Sandy) she was a Shetland Sheepdog, but a blue merle. Abby got along great with both Maggie and Molly. She died unexpectedly in 1998 at the age of 3. We miss you, Abbs.
Napa
The little stinker hiding
under our couch...
she can't fit under there now
Napa before she
knew how to
descend stairs
Maggie, Napa, and Sandy
playing
Napa helping Jeff do
homework
Napa Hilltop has to be the most spoiled dog there is. At one time, preparing her dinner involved every major appliance in our friends Jeff and Sheila's kitchen. I guess the first dog is always more spoiled.

Napa's a Jack Russell Terrier (Wishbone? Eddie?). Jeff N. often jokes that she's a hairy sausage with legs because when you pick her up she's solid muscle.

Napa is afraid of ski boots. She has graciously offered her middle name to Cammie.
McKinley

McKinley partying on
our deck

If all the dogs on this page took part in a tractor pull contest, Mick would've won. In fact, if it was all of the other dogs against Mick, Mick would've won. Mick died from lung cancer over Memorial Day weekend in 2000. He was a sweetie.
Tippy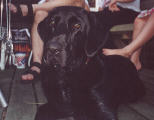 Tippy guarding the grill
at the cabin
Tippy is JoAnn's Uncle Tom and Aunt Joan's dog. Tippy likes to play a lot... He loves to play and be in the water, but when everything's quiet he chills out.

Thoren sitting in our
family room
Thoren is the Akita of our friends Jennifer and Peter. He's a teddy bear and loves Mickey Mouse dolls.