Devo

This is from the Halloween of 1989. Two of my roommates, myself, and another guy dressed up as the new wave group 'Devo'. What's on our heads? Plastics flower pots stacked and painted red. Hard to believe we only placed third in the costume contest...
Austin Powers and Felicity Shagwell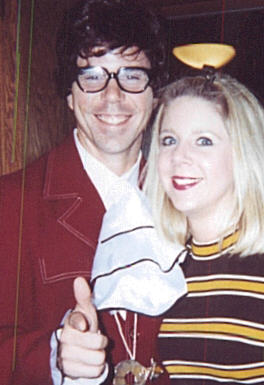 Hey, let's get one thing straight... These are nothing like our 1999 costumes (Early 70's chick and Dirk Diggler). Austin wears glasses and has a froofy shirt. Dirk doesn't. Early 70's chick wears a hat. Felicity doesn't. No comparision.
As usually happens at parties, the alcohol flowed and costumes started getting mixed up:
Morticia

JoAnn's used this costume for a few parties. This picture is from the 1993 Halloween bash at our spooky mansion on Summit Avenue in St. Paul. Oooo...scary!
Moonstar

For the Halloween of 1992, JoAnn dressed as the fictional 60's bombshell 'Moonstar'. This was also JoAnn's 23rd birthday party. Later that evening, after surpassing the optimal level of inebriation, 'Moonstar' scribbled the phrase, "You as die as you left me".
Apostle from Hell

Not to be confused with the "Demon from Hell". This shows what happens when you wait until the day of the party to decide on what your costume is going to be. This was a great party, however.
Demon from Hell

From the Halloween of 1995. This costume had to be the stupidest idea I ever had. I couldn't eat or drink without getting hair in the way. The rubber hand made it hard to hold two drinks, and the red makeup sweat off. I did get into some serious makeup with the realistic fake beard, however. I got some professional makeup glue and many people thought I had grown something just for the party. The best costumes at the party were the couple who came dressed as OJ's gloves.
Early 70's Chick and Dirk Diggler


These were from the 1999 St. Paul Junior League halloween party. It was a pretty fun night.The party had a 70's theme. We bought our costumes at Ragstock. I found a polyester suit that fit perfectly. JoAnn found a late 60's/early 70's outfit with a floppy hat to match. I wasn't intending to look like Dirk, but everyone we ran into (even total strangers) pointed at me and yelled, "Dirk Diggler!".
Neil and Cindy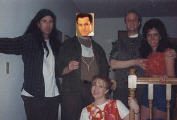 Technically not a Halloween picture, this was from a costume party in the winter of 1997. I'm dressed as "Neil" from the British TV series "The Young Ones" (on the far left). I'm trying to act as if I've got 6 arms when I really haven't. JoAnn is dressed as innocent little "Cindy Brady" (bottom). Aren't her pigtails cute? Our friends are dressed (left to right) as Hawkeye Pierce, Trapper John, and Daisy Duke.
Drunk Guy with Clown Wig

Okay, this wasn't my real Halloween costume, but it was on Halloween.