December 30th, 2002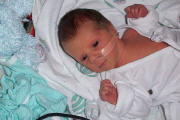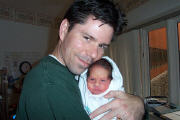 The boys are doing great. Both are beginning to eat and after an initial weight drop (like all babies have) they are putting on some pounds (or ounces). Lukas (left) now weighs 5 pounds 1 ounce while Jakob (right) weighs 5 pounds 2 ounces.
They clearly recognize our voices look us in the eye while we are talking to them.
December 23rd, 2002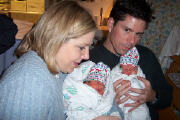 When we arrived in the morning, both boys were done with their biliruben treatments and no longer needed their IVs. We got to hold them quite a bit. Later in the afternoon, they "graduated" to another room and were now sleeping in the same crib. We got the chance to be together as a family for the first time!
JoAnn's mom visited today and got to hold each of the boys for the first time. Updates will be a bit less frequent from this point on, and I'll therefore stop logging who visited. Please don't feel bad, Bill.
December 22nd, 2002
Each of their biliruben counts were a little high, so each was receiving treatment to take care of it. Lukas was still in his isolette with a bili-light over it. Jakob was in his bassinet with a bili-blanket. Lukas got a chance to try eating for real and was pretty interested. Jakob still wasn't quite sure what to do.
Visitors today included JoAnn's mom, Jeff's mom, Jeff's Uncle Joe, Jeff's Aunt Sue, and Jeff's cousin Allison. Going home was once again very difficult.
December 21st, 2002


We each got to have some skin-to-skin contact with the boys today. On the left, JoAnn tries to see if Jakob is interested in latching onto some food. He was pretty sleepy, though. Jeff, on the other hand, was too successful with Lukas (on the right). Lukas was rooting all over looking for something to suck on. Jeff tried to produce a little sympathy milk but he can't do *everything*.
We each changed our babies diapers for the first time today. The poo doesn't smell, yet.
Visitors today included JoAnn's dad, JoAnn's grandmother, and Jeff's Uncle Mike and Aunt Deb.
December 20th, 2002
Both boys were removed from their isolettes around noon to see how they'd do. Jakob passed his test and would be in a bassinet from now on. Lukas almost passed, but would need to spend another day or two getting some extra heat. We got to hold each of the boys for longer periods today. They were precious.
Visitors today included Jeff's dad and Sharon, Jeff's mom, Don and Heather Lundgren, Steve Dauplaise, and Jeff, Sheila and Anna Kruesel.
JoAnn was released from the hospital today. Going home without the boys was very hard.
December 19th, 2002: Two healthy strong hairy boys
We transferred rooms and went to bed around 3am. JoAnn had to get up early to start pumping...and she'll need to do either that or feed the babies every 3-4 hours for some time to come.
We went down to visit the boys around 9:30. The doctors and nurses explained everything two us. Luckily, their lungs had developed enough so that they didn't need help breathing. Both boys were being watched in isolettes. Each had an IV in their arms providing them with fluids, a tube down their nose for pumping food directly to their stomach, and several electrodes on their bodies to monitor everything. That probably sounds really sad, but we have babies and this is just temporary until they gain a little weight and coordinate the suck-swallow-breathe combo.
Our visitors included Judy Nelson, Bill Nelson, Stephanie Nelson, Paula Foushee, and JoAnn's parents. We spent as much time as possible in the NICU.
December 18th & December 19th, 2002: Time to have babies, but on two different days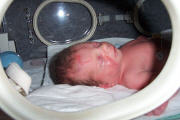 JoAnn started feeling a bit crampier, and in the mid-afternoon started feeling real contractions. She was 4cm by 7:30pm, and 10cm by 8:30pm. After about 2.5 hours of pushing and a little waiting, we went to the delivery room.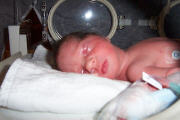 Lukas Joseph (left) was born at 11:41pm on December 18th. He weighed 4 pounds 12 ounces and was 17.5 inches in length. He started screaming right after birth. They showed him to us and whisked him off to the NICU. (The picture on the left is Lukas at the age of approximately one hour.) The doctor then said, "Well, we have 19 minutes before midnight...do you want them to have the same birthday??" We tried pretty hard, but...
Jakob Arthur was born at 12:17am on December 19th. He weighed 4 pounds 14.5 ounces and was 17.75 inches in length. The picture on the right shows Jakob when he is an hour old. After delivery, we went back to the room while JoAnn recovered a bit and then went to the NICU to visit our babies.
All of our parents and my Uncle Bill waited around and got to see the boys before going home.
December 16th, 2002: Lukas' sac ruptures
JoAnn went into the doctor on this morning after having what appeared to be a leak. She was admitted immediately because it looked like one of the sacs had a small rupture. She would carry out the rest of her pregnancy (hopefully exactly four more weeks) from a hospital bed. The babies were exactly 33 weeks old at this point.
Later that day, they discovered that JoAnn's cervix had dilated 1cm. She was transferred to United Hospital at 6pm where they can better take care of women in her situation.
Upon arriving at United, they discovered that it was Lukas' sac that had ruptured, but both babies were still fine. We now just wanted to make it as long as possible, but the doctor said that most women deliver within 48 hours of a ruptured sac. If the babies came, they'd probably be okay, but the longer they stayed the smaller the chances of complications. However, if they stayed, there was a small risk of infection.
December 10th, 2002: Strict bed rest
JoAnn was now JoAnn's doctor started to see signs of pre-eclampsia, so JoAnn was put on strict bed rest. No more work until after maternity leave. Hopefully the pregnancy would last until January 13th. At that point she would be 37 weeks pregnant and the boys should be fully developed.
November 14th, 2002: Appointments pick up
JoAnn was now 28 weeks and 3 days pregnant and started having weekly appointments with her OB. That's normal for a twin pregnancy. I kept expecting the doctor to put JoAnn on bed rest but she continued to do very well.
November 1st, 2002: JoAnn reduces her work schedule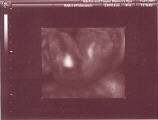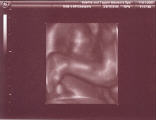 JoAnn was now 26 weeks and 4 days pregnant. She started having contractions around the beginning of October and now had to monitor herself twice daily. That required strapping on a monitor for an hour twice each day and sending the data to a monitoring company. If there was anything to worry about, they let us know.
JoAnn started working from home on Wednesdays and Fridays because the doctor was worried about the stress the commute and work were putting on her. The people she works with were great about it.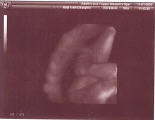 The boys were still doing great, too. We'd named the one on her right side "Car Boy" because he goes nuts in the car. ("Carboy" later was named Lukas). We called Jakob "Food Boy" because he seemed to react to meals.
Here are some pictures from our appointment on November 1st. The picture on the left is one of the boy's butts. The picture on the upper right shows a leg (the foot is on the left side and the knee is on the right side). The picture on the lower right shows one of the babies upside-down from the waist down. One of the legs is fully extended while the other prepares to kick JoAnn in the ribs.
September 19th, 2002: We have boys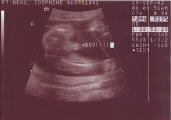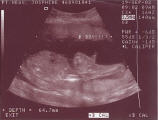 We found out today that we had two boys, and as far as the docs can tell everything was normal.
Take a look at the pictures of each baby, and you'll see clear evidence of boys! The ultrasound lady made sure to point it out in case you are having problems...
At 20 weeks and 3 days, JoAnn was getting kicked pretty regularly now.
July 26th, 2002: Everything is still okay


JoAnn was now 12 weeks and 4 days pregnant. We had another ultrasound, and we'd continue to have a lot more. Everything was okay...the doc just wanted to check a few things out.
The babies were each about 6 centimeters big right now, and their heart rates were identical at 162bpm. They were both fairly active during this session. Lukas, on the left, was doing a little kicking and squirming.. Jakob, on the right, was assuming a boxing pose and exercising its arms. Unfortunately, neither twin was turned in a way that gave us a good view of its face.
JoAnn thought they both looked like boys. Like she could tell... The doctor also thought she saw a little penis on one of the boys.
July 9th, 2002: First visit with the OB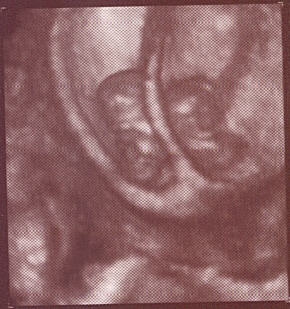 We were now at your normal pregnancy-type doctor. JoAnn was now 10 weeks and 1 day pregnant and was just starting to show.
The picture on the right shows the them at actual size. Lukas on the left and Jakob on the right. They were about 3 centimeters in diameter, which was exactly right. Hearts beating, etc. It's all good. They were doing little somersaults (seriously)...they're pretty active.
June 12th, 2002: Done with the reproductive specialist
This was the next big test, and we still had twins! At this point, JoAnn was 6 weeks and 2 days pregnant and the babies were perfect.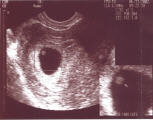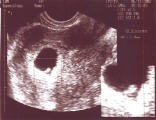 Lukas, on the left, was 4.5 millimeters in this ultrasound. His heart rate is 114 beats per minute. Yes, you can actually see his little heartbeat at this point.
Jakob, on the right, was 5.0 millimeters in diameter. His heart rate is also 114 beats per minute.
Upon seeing all this, Dr. Malo told us we couldn't see him anymore. After 18 months at the reproductive specialist, it was finally time to move on...
May 29th, 2002: We're pregnant...with twins!
Yay! What a tough two weeks. We had to try and enjoy a vacation while waiting to find out if we were pregnant, and JoAnn was convinced that it didn't take. JoAnn got a call from Dr. Malo saying that she was indeed pregnant, and her hormone levels were indicating twins!
At least now we knew that we had a chance of ever having kids. JoAnn was now 4 weeks and 2 days pregnant.
May 16th, 2002: We have two good embryos

The twins were officially three days old and JoAnn was considered 2 weeks and 3 days into her pregnancy. At this point, Twin 1 was a six-cell embryo while Twin 2 was an eight-cell embryo. Click on the picture for a larger version. Of course, we don't know who is who in this picture.
What a cool process. You pop in two of these things, wait nine months, and voila - out pop two kids! In reality, it was (and continued to be) very stressful... The twins were put in on May 16th and we had to wait until May 29th for the pregnancy test.
May 13th, 2002: The beginning
Lukas and Jakob were conceived on Monday, May 13th in a little dish where a dozen eggs and jillions of microscopic yet powerful, handsome sperm were romantically stirred together by a lab technician. From that batch, we ended up with two usable embryos.
According to the strict laws of childbirth, the beginning of Lukas and Jakob dates to April 29th, 2002. For pregnancy purposes, you calculate 280 days from that date. That means they would have been born on February 3rd, 2003 if carried to full term. However, you can expect twins to arrive three weeks early, which put their estimated birth date at January 12th, 2003.
Early on, I joked that JoAnn should try to deliver one of the twins before midnight and one after midnight so that they'd be twins with different birthdays. Little did I know...